G: H. Santiago; Q: It is. González.
Match Finished
The Caguas Criollos achieved their second victory of the tournament by beating the local Tomateros de Culiacán 6 – 4.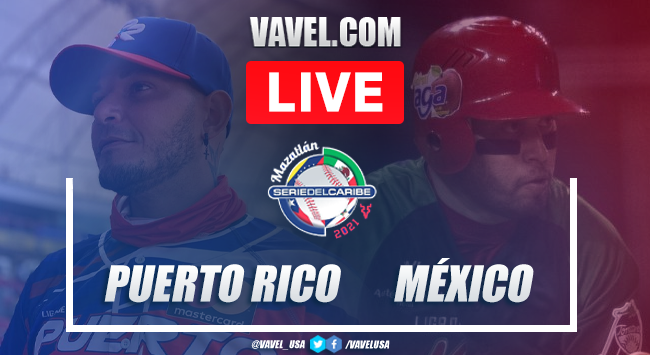 60
LIVE

Full Time
End of high ninth
End of the eighth inning
End of the high eighth
End of the seventh inning
End of high seventh
End of sixth inning
6 Baja
Navarro is out with a fly. At bat: Isaac Paredes
End of the sixth high
Friday high
End of the fifth inning
End of the fifth high
End of the fourth inning
End of fourth discharge
End of third inning
End of the second inning
End of second discharge
End of first entry
End of first discharge
Playball!
Last minute delay
The Tomateros de Culiacán have just announced that the match between Puerto Rico and Mexico tonight will start at 9:40 p.m. (CDMX).
We are nowhere!
Mexico is ready to return to the path of triumph
The highest figure
Mexico Lineup
Mexico wants to enforce local status tonight
Dominican remains undefeated
Venezuela already knows what victory is
Édgar González will open for Mexico
The right-hander will rise to the mound of shooting tonight for the Tomateros de Culiacán.
Héctor Santiago will open for Puerto Rico
The former Major League Baseball will do the initial work tonight for the Caguas Criollos.
Puerto Rico Lineup
The home of the Caribbean Series
Do not detach from here
Where and how to watch the Dominican Republic vs Mexico LIVE: Caribbean Series 2021
Mexico roster
Puerto Rico roster
Mexico looks for number 10
Puerto Rico wants the seventeenth championship
Top 15 Mundial
They want to recover
The Tomateros de Culiacán started their participation in the Caribbean Series well by defeating the Caimanes de Barranquilla 10-2. However, the cherries fell 4 – 2 on the second date against the Águilas Cibaeñas, and now they will seek to return to the path of victory against the representative of Puerto Rico.
They look for the second in a row
After a difficult start, the Caguas Criollos managed to overcome by beating the Anzoátegui Caribes 0 – 3 in their second game of the Caribbean Series. Now, the Puerto Rican ninth wants to maintain its good moment against locals that have come off prime time.
The last guest
They arrived without disheveled
The Criollos de Caguas are in the 2021 Caribbean Series as champions of the Roberto Clemente Professional Baseball League. In the final series, they beat the Mayagüez Indians by sweeping in four games, so they quickly secured their pass to the Caribbean party.
Whoever wins, takes advantage of standing
Puerto Rico and Mexico reach the third date of the Caribbean Series with a mark of 1 – 1. That means that whoever wins today will get to the first places, while the loser will be compromised his pass to the semifinals.
Good afternoon to all VAVEL readers!