Jorge Alberto González Barillas or Rafael Moreno Aranzadi are not names that have gone down in history. If you type them in an Internet search engine or in a virtual encyclopedia, they always appear in the background or accompanied by a "better known as". Jorge and Rafael, as they should have appeared on the school desk, over the years remained in a small shadow behind the gigantic legend of Mágico, the most mythical player of Cádiz CF, and Pichichi, one of the first great scorers of the Athletic Club. Denominations, these yes, that have been engraved in the collective memory to identify these idols, but that often hold as much mystery for fans as the names that their mothers and fathers gave them. When did footballers start to have nicknames and why do they still have them today? Who Invented Your Nicknames? Is having one a sign of having succeeded?
The aliases arose when football was on the way to becoming a mass sport and in imitation of bullfighting, another great show of the time with which it competed in passions, explains historian José Ignacio Corcuera. "Wanting to emulate the feather painter of the bullfighting chronicle, some newspaper reporters began to apply nicknames, always laudatory," he says. Thus, in the 1920s, 1930s, and 1940s, the Spanish began to worship stars renamed with surnames that suggested supernatural qualities such as The Divine Zamora or Bala Rood Gorostiza, who took these epithets to the grave, or others like The Lobster Man Samitier the Count Pazos, which were later "pasture of oblivion," says Corcuera.
The custom transcended borders, and after Spain beat France 1-5 in Paris in 1949, the French chroniclers called midfielders Puchol and Gonzalvo III Wonderful blondes, the wonderful blondes. Even Rafael Alberti, totem of the Spanish letters of the last century, experienced such an outburst when he witnessed the 1928 Cup final between FC Barcelona and Real Sociedad in Santander, after which he dedicated an ode to Ferenc Plattkó, the Barça goalkeeper, to the which he referred to as "Hungarian Blonde Bear". A qualifier that would end up crystallizing in the popular heritage as El Oso, a simpler and more direct abbreviation.
That of the Cádiz poet would be one of the few forays of a great pen in a field dominated by journalists, although his inventiveness was not always recognized. In the first half of the 20th century, before the popularization of radio and television broadcasts, there are few cases in which it is known who was the author of a nickname, no matter how popular it was. One of them is the Argentine Roberto Neuberger. Inspired by the speed of the arrow and the color of his hair, he nicknamed Alfredo Di Stéfano as La Saeta Rubia, before he arrived at Real Madrid and starred in a film in the fifties that would carry as its title precisely that designation that always accompanied him.
The curious case of the Argentine 'nickname'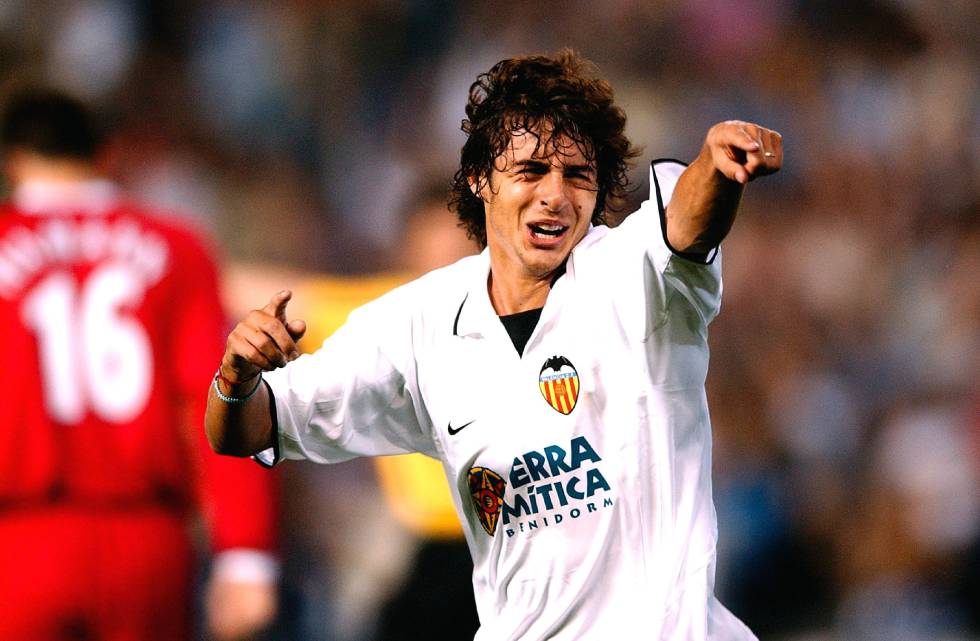 Pablo Vande Resten
Whoever has been introduced to a group of Argentine friends will find it difficult many times to find out what the real name of each of its members is. If the vast majority of soccer players from that country who play or played in Spain have a special nickname –Basque Arruabarrena, Pintita Gago, Little bunny Saviola, Clown Aimar, Spout Ibagaza, Burrito Ortega, pigheaded Ruggeri, Bone Galletti, Mute Vazquez, Louse López, Mouse Ayala, the list never ends — it's because outside the field, in life, that's how things happen there too. Few are spared from the nickname. Many appropriate it.
Argentine writer Eduardo Sacheri, author of the novel The question of their eyes on which the movie is based The Secret in Their Eyes, explains the phenomenon: "They are born of ironic humor, cruel love, which is the one that we do best. The animalization of nicknames, for example, has to do with taking a characteristic and exaggerating it, laughing a little at the friend to whom we give that nickname ". Fat, Pipe, Greyhound, Monkey, Papu, Duck …
Sacheri, writer of several soccer novels and stories and history teacher, adds: "This reflects the value we place on friendship. We give the nickname to a friend. They are not usually posted by strangers. The nickname appropriates it. It is an act of closeness and differentiation. We have 10 friends named Leo, but only one is La Pulga ". And this, says Sacheri, shows a third characteristic of the Argentine phenomenon of nicknames: "Fierce individualism. We like to be the object of nicknames and to distinguish ourselves from the other mortals who have our name ". Prince, Wall, Fiera, Bombón, Saeta, D10S …
Later, in Spain some storytellers emerged who made the imagination for nicknames a hallmark. The most representative, says Corcuera, a member of the editorial board of the magazine of the Spanish Soccer History and Statistics Research Center, was the late Héctor del Mar. Born in Buenos Aires, Del Mar arrived in Madrid in the 1970s, initially as a film dubber, and made the leap to the media displaying a peculiar storytelling style plagued by aliases such as Octopus Arconada, Brave Ax Benito, Pink Panther Sarabia, Slow motion Forest, Gale Quini or Tarzan Migueli, just to mention a few. Only a few like Andrés Montes, the popular NBA storyteller who switched to soccer in 2006, could match him in vibrant manners and productivity in terms of soccer baptisms. "I don't think about anything before, I live on blood sausage, on improvisation," Montes said in EL PAÍS before his death in 2009, who had a suggestion box for new nicknames.
The writer and columnist in As Javier Aznar believes that every nickname should be "catchy, witty and representative" and that with the passage of time the creativity of names in the style of Galerna del Cantábrico (Paco Gento) has been lost that, in his ears, sounded "bombastic, poetic , sparkling, visual ", as" taken from a Raymond Chandler novel ".
But although an evolution cannot be denied, it is also fair to say that the imaginary starts from the same referents before and now: exaggeration of a physical feature (of the Wigs Cesar Rodriguez to Lo Plates Iván de la Peña), extolling a virtue (of the facility for the auction of Head of gold Kocsis al incansable Moto GP Alves), comparison with fictional characters or animals (from El Gato del Maracaná, the title with which they honored goalkeeper Ramallets, a The flea Messi o The bull Acuña), among many others in which Carlos fits Lettuce Roa, an Argentine archer who in the 1990s stood out for his vegetarian diet.
The only fashion a little against the current and alien to any tradition is that of acronyms. This trend, which was born in the 1998 World Cup when Ronaldo Nazario engraved the R9 inscription on his boots, has become the preferred way to call footballers such as former Madrid player Cristiano Ronaldo (CR7) or the current top scorer Perico, the Madrid player Raúl de Tomás, who wears the letters RDT on his shirt next to the number 11. Denominations that for the first time do not refer to his appearance or his condition, unlike others in LaLiga Santander such as The little Prince Griezmann or the Oro Boy João Félix.
Head, big head, Son
Even so, there are players who today proudly wear the nickname that they have been given in the other great source of nickname creation in football and in life in general: family and friends. It was the case of Pedro Rodríguez, who made his debut with FC Barcelona as Pedrito before simply staying in Pedro, and it is also the case of the Levantine Francisco Javier Hidalgo Gómez, a 26-year-old from Seville and Son in the games. "My cousin put it on me. Head, head… he called me big head and stayed in Son ", he said in a recent interview on the COPE network.
Nicknames are also born in the intimacy of the changing rooms (it is known that Iker Casillas and Xavi Hernández were affectionately called Skunk and Pelopo among them, for example), but they seldom become popular outside of them. Something that did happen with the current Deportivo Alavés coach and former player trained at Sporting de Gijón, Abelardo Fernández. His partner Luis Enrique began to call him Smurf and Pitu, and that is how he is still known in the world of football.
Only a select group of footballers with the rank of mythical was accumulating nicknames as their legend grew, as if they were noble titles. Among them are Maradona (Cosmic Barrilete, Pelusa, Pibe de Oro, Cebollita) or Luis Aragonés (Zapatones, Plomo, El Sabio de Hortaleza). And it is that nicknames not only speak of a way of living and counting football, but they are also a thermometer to know who left a printing press in history with their name, even if it was borrowed.
You can follow EL PAÍS Sports at Facebook, Twitter or subscribe here to the Newsletter.